I had received an email notification from TFAW.com a couple of days ago, April 6, 2007 to be exact, saying that my issue of Buffy the Vampire Slayer: Season 8 #2 had shipped. I was surprised to find it sitting in my mailbox today, April 9, 2007, when I arrived home from work.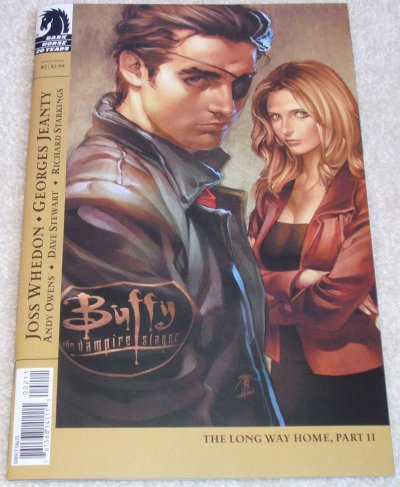 This issue's cover has Zander and Buffyer on it. [I will add a picture once I get our family digital camera back. Nancy has it with her.] [Updated 4/21/2007: I have added a picture of the cover.] I don't want to give away the story, but I actually like this issue better than the first. I think that is to be expected, as they are just starting out the story arc. In this issue, you start to get more clues about what has happened since the end of season 7 on TV and the start of season 8 in the comic. I find the writing, especially, to have successfully traversed the media change. (Pretty much to be expected though, as Joss Whedon is the one who wrote the first two issues.)
Looking forward to issue #3!