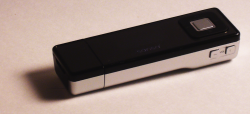 I just purchased a SanDisk Sansa Express
.
I purchased it because it was small, charged via USB, and had a radio. I was looking for a player that I could listen to while I run. (I also bought a Digital Lifestyle Outfitters Action Jacket, which is an arm band and neoprene case for the Sansa Express.)
I have to get it loaded with music for my morning run on Monday. I will have to provide an update afterwards. I suspect that I may have to invest in some sports earphones instead of the ear buds provided.