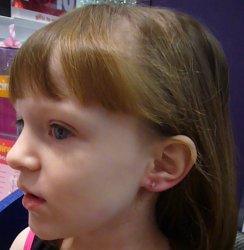 Sydney got her ears pierced Wednesday of last week, 12/5/2007. Nancy had taken her to the mall after she was done with gymnastics. They were walking past claire's boutique. Sydney has been into putting lots of hair accessories in her hair lately; pony tails, pig tails, clips, headbands, etc. While they were looking around, Sydney asked to get her ears pierced.
She did very well. She was very excited. Nancy had both the video camera and still camera handy, so she was able to capture the moment. I was there too, along with Adelaide. The two employees at the store worked together to pierce Syd's ears. In this way, they pierced both ears at the same time. Sydney, who needed two nurses and Nancy to hold her down to get a shot, didn't cry at all when her ears were pierced. I guess it all depends on if you want it (earrings) or not (shot). 🙂
Sydney picked out pink flower earrings. (I think that she picked them because they were pink.) She is excited that she will be able to pick out earrings from Walt Disney World, as we will be going there soon. Once we get back, she will be able to take her starter earrings out and put in whatever she wants. She wants Mickey and Princess earrings.