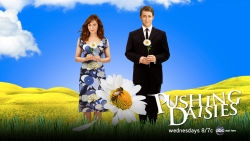 In tonights episode of 'Pushing Daisies', "Girth", we discover that Olive used to be a jockey. Yep, a horse jockey. Ride on the back of a horse in a race jockey. We discover that she was a pretty good jockey. The episode was about a jockey that "died" in a race in which Olive's horse ran him over. But the dead jockey is back after 7 years in the form of ghost to extract revenge from the four people who knew the truth about his death. (Olive is one of the four.)
Ned has to visit a ghost of his own; the memories of the father that left him when he was young. Ned goes back to his childhood home, which is right next door to Lily and Vivian's house (Chuck's aunts). Ned visit's Chuck's aunts, and while eating a strawberry pie, discovers that he had a part in making the pie that the aunts had. When he takes a bite, the strawberry reverts to its shriveled, dried form. This means that Ned had touched it before. He realizes that Chuck has been making pies for her aunts.
After Ned and crew discover that the dead jockey isn't really dead (he was revived and had some bones replaced so now he is really tall, the antithesis of a jockey) and the now-alive jockey's mom was the revenge seeker, Ned understands that Chuck misses her aunts. But Halloween provides a perfect opportunity.
Ned and Chuck drive to Chuck's aunts' house. Here is the good part. (Reason #3 for why I love 'Pushing Daisies'. Here was reason #2.) Chuck dons a sheet with two eye holes cut into it and walks up to the door. She rings the aunts' doorbell. You then hear the aunts' say something to the effect of "who is trick or treating at 2:00am?". Lily says, "I'll get the shot gun." Vivian says, "I'll get the candy bowl." When they open the door, Chuck holds up her plastic pumpkin and says, "Trick or Treat." Both of the aunts smile upon seeing the "ghost". (Chuck is dressed as a ghost, and she IS a REAL ghost: someone back from the dead.)
This show could be gory, with all of the death and such, but it turns out to be quite touching. 🙂
[Updated 11/1/2007]: Here is another perspective on the Pushing Daisies episode "Girth".
Tags: abc, pushing daisies, tv