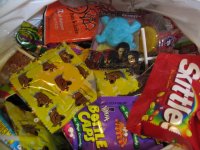 Halloween 2007 is wrapping up. I think that Sydney and Adelaide had a good Halloween. This evening, around 6:30pm, Sydney the fairy princess and Adelaide the monster set off down our sidewalk with treat bags in hand. Sydney, being 4, was very excited. Adelaide, being 20 months, just wanted to chase after her older sister.
(Nancy was decked out in goth attire. She looked like Abby on NCIS. She was very cute.)
Houses that had dogs were a big hit with Syd and Ad. They stopped to talk with and pet the puppies.
About half way around the block, Ad figured out the system. I would pick her up the front steps. (She still isn't too good climbing steps.) She would then totter up to the door and step right up to the candy bowl and pick a piece of candy. (She was partial to suckers when she could find them.) She would them put the candy into her bag. She did very well.
Overall, this was a very cute year for trick or treating, as both girls really liked it. 🙂