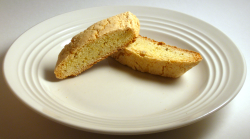 I baked Lemon-Anise Biscotti for the first time on Thursday night. The recipe is from the cook book
Italian Classics
by the editors of Cook's Illustrated magazine.
The recipe is very simple and doesn't require too many pieces of equipment. It is basically made with flour, baking powder, salt, sugar, eggs, vanilla extract, lemon zest, and anise seed. The equipment required is an oven, a mixing bowl, whisk, and baking sheet with parchment paper. Biscotti are twice-baked Italian cookies. Once the batter is mixed, it is formed into a long loaf shape and baked. It is then sliced into individual pieces and baked again. This recipe doesn't use butter, so the cookies should last a couple weeks if stored in an airtight container.
They are a relatively hard biscuit. They are perfect dunked in my favorite tea. The lemon and anise flavors are a unique taste that goes well with the English Breakfast tea that I prefer. The cookies have a nice amount of sweetness too. I would make this recipe again.